Nomads Outdoors Group – Mernda Station to Yan Yean Reservoir Circuit Walk
Hosted by
The Nomads Outdoors Group
Date/Time
Sunday, 26 May, 2019
All Day
Add to webcal
Event details
Appropriate age/s: For over 18's only
Further information: Event website
Book tickets: Click here

Accessibility

Location
Mernda Railway Station
Mernda Railway Station, Mernda, Victoria

Event Description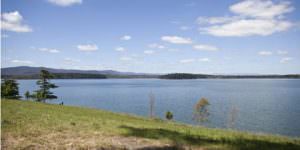 Check out the latest northern suburbs "sky rail" with this scenic walk through wetlands and modern suburbia to the Yan Yean Reservoir.
GRADE | LENGTH | TYPE: Moderate 12 km circuit walk.
MEETING TIME | LOCATION: 10:50am at Mernda Railway Station in the Plaza area. The Mernda Line train departs Flinders Street via the City Loop at 09:48am arriving at Mernda at 10:49am.
MAP REFERENCE: Melway map 390 grid J10 | Google map goo.gl/maps/yUP7sjC7Tkw.
DISTANCE | TIME FROM GPO: 26 km via Plenty and Bridge Inn Roads (ample free car parking at the Station). 61 minutes from Flinders Street by train.
COST: All travel is within Myki zones 1 & 2 with weekend daily caps of $6.40 full fare, $3.20 concession and free for seniors.
FOOD: Carry at least 1 litre of water, snacks, plus food for lunch.
APPAREL | FOOTWEAR: Layered clothing to match the weather forecast for a late autumn day. Comfortable stout walking boots/shoes, suitable for walking on dirt tracks and road verges plus concrete walking paths.
ACTIVITY DESCRIPTION: Departing from the newish "sky rail" Mernda Station, the walk heads along Bridge Inn Road to enter the new housing development of Doreen. The walk transverses along concrete paths around lots of linked lakes and wetlands included in this housing development. There will be a stop at Rothacker Hill for views over this area of rolling hills. The walk will proceed via road verges to enter the parkland surrounding Yan Yean Reservoir.
A leisurely lunch break will be taken at Yan Yean to provide walkers the time to explore the area including the associated lookout and wetlands. Following lunch, the walk will return via the western end of Doreen back to Mernda Station. This section of the walk will pass a number of very old eucalypt trees that have been retained in mini parks.
Doreen was settled as farmland in 1884 when it was then known as Hazel Glen. The name change occurred in 1895. Yan Yean Reservoir was completed in 1857 after four years of construction. It is Melbourne's oldest water catchment/storage facility and at the time of its construction was the largest artificial reservoir in the world. The Parkland is popular with bird watchers.
FURTHER INFORMATION: for park notes, go to parkweb.vic.gov.au/explore/parks/yan-yean-reservoir-park.
To book this event, please follow this link to the Nomads website:http://tdy.cl/se/h6EKER4
You might also like: