QTIPoC Skill Building Workshops
Hosted by
Switchboard
Date/Time
Thursday, 8 July, 2021 - Friday, 27 August, 2021
All Day
Add to webcal
Event details
Cost: Free
This event is for: Queer, Trans, Intersex People of Colour
Appropriate age/s: For over 18's only
Further information: Event website

Accessibility


Wheelchair accessibile

Location
Victorian Pride Centre
79-81 Fitzroy St, St. Kilda, Victoria

Event Description

Switchboard Victoria's Queer, Trans, Intersex People of Colour (QTIPoC) Program is excited to announce a series of skill building workshops for our QTIPoC and CALD communities.
Led by QTIPoC facilitators, these workshops offer community members a safe and inclusive learning environment.
July Workshops include:
July 8th: Strengthening Peer Support Skills (6-8pm, online)

July 14th: Navigating Grant Writing and Gatekeeping (6-7:30pm, online)

July 16th: Intentional Happiness (6-8pm, in person)

July 21st: Theatre Games & Improvisation for Beginners (6-8pm, in person)

July 29th: Exploring Culturally Diverse Attitudes to Mental Illness (6-8pm, in person)
+ More workshops to come in August, stay tuned!
We look forward to having you join us! If you have any questions, email qtipocmanager@switchboard.org.au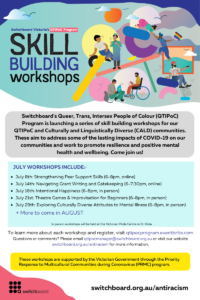 These workshops are supported by the Victorian Government through the Priority Response to Multicultural Communities during Coronavirus (PRMC) program.
You might also like: