RuPauls Drag Race Extravaganza
Date/Time
Thursday, 13 June, 2019
7:00 pm
Add to webcal
Event details
Appropriate age/s: For over 18's only
Book tickets: Click here

Accessibility


Wheelchair accessibile

Location
Meat Market
3 Blackwood Street, North Melbourne, VIC

Event Description

After raising a sickening $10k in 2018 for LGBTIQ+ health and wellbeing services, RuPauls Drag Race extravaganza fundraiser is back back back back back again…
That's right hennies, Thorne Harbour Health is serving you a gagworthy amount of Drag Race themed trivia for your nerves dawwling.
With trivia spanning 12 illustrious seasons of the hit drag reality show – with a sprinkling of queer pop culture, your edges will be SNATCHED.
Hosted by Melbourne drag icon Frock Hudson, There'll be gagworthy prizes, Melbourne's own sexy Surge Pit Crew, more mini-challenges than you can chuck a lace front at, and ALL proceeds supporting LGBTIQ+ health and wellbeing services, we can't WAIT for this COMEBACK!
Oh ya'll wanted a twist…There will be a sickening supply of booze and snacks available.
Tables of 6 and 10… Get your house in order!
Licensed 18+ General Admission Event only
Each ticket holder must be able to present one of the five Government approved photo I.D.'s to gain entry into a Licensed Area (Australian Drivers License, Victorian Learners Permit, Keypass, Proof of Age Card, or Passport). No person under the age of 18yrs is permitted into the venue under any circumstances.
For any further questions contact events@thorneharbour.org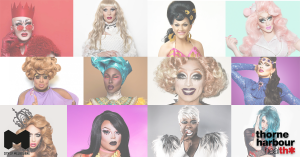 You might also like: