It's a rare thing to have a space dedicated to LGBTIQ+ culture and it is with immense excitement and pride that we launch the visual arts programming at the Pride Centre. The Pride Centre will provide opportunities for visual arts and archival display through programming, Pride Gallery exhibitions and display of art in other suitable spaces in the Pride Centre. Our visual arts programming will focus on art by LGBTIQ+ artists and/or art that focuses on LGBTIQ+ issues. We hope to see visual arts exhibitions, installations and happenings that delight, celebrate, educate and provoke audiences.
A Visual Arts Working Group has been recruited through EOI and these volunteers will collaborate with the Pride Centre to program visual arts at the Centre.
For further information please contact us via email: contact@pridecentre.org.au
Current exhibition:
Freedom is Mine (Jan – April 2022)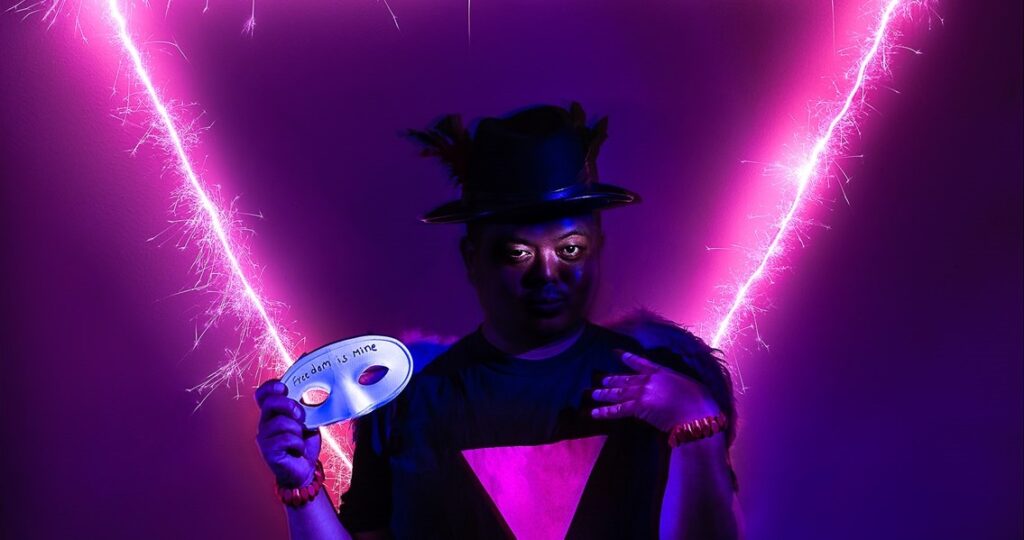 The new exhibition Freedom is Mine has opened at the Victorian Pride Centre.
This important and timely exhibition features portraits by photographer Peter Casamento of LGBTIQ+ people seeking asylum, and is part of the 2022 Midsumma Festival program.
Exhibition dates: January 1 to April 20
Victorian Pride Centre opening hours: 9am – 6pm Mon to Sat, 10am – 6pm Sun
Ticketing/costs: Free, no booking required
Freedom is Mine has been developed as a collaborative project between photographer Peter Casamento and Many Coloured Sky, the Queer Development Agency of THREE for All Foundation.
The THREE for All Foundation is an Australian registered charity focused on community partnerships and community development initiatives that address human rights challenges for communities around the world that are especially disadvantaged by discrimination, poverty and displacement.
More about Freedom is Mine:
LGBTQI+ people from many parts of the world face persecution, violence and expulsion from their families and communities, and may be forced to flee their country. Those who come to Australia can experience prejudice, isolation, and material deprivation as they seek the freedom to be themselves.
Freedom is Mine is an intimate photographic portrait exhibition of LGBTQI+ refugees and people seeking asylum who are members of Many Coloured Sky's Queer Refugee and Asylum Seeker Peers community. Photographer Peter Casamento gave his time to capture each participant in ways that help them to share their stories, challenges and hopes for the future.
Current exhibition:
Queer-ways: Retracing Melbourne's Queer Footprint (November 2021 – Jan 2022)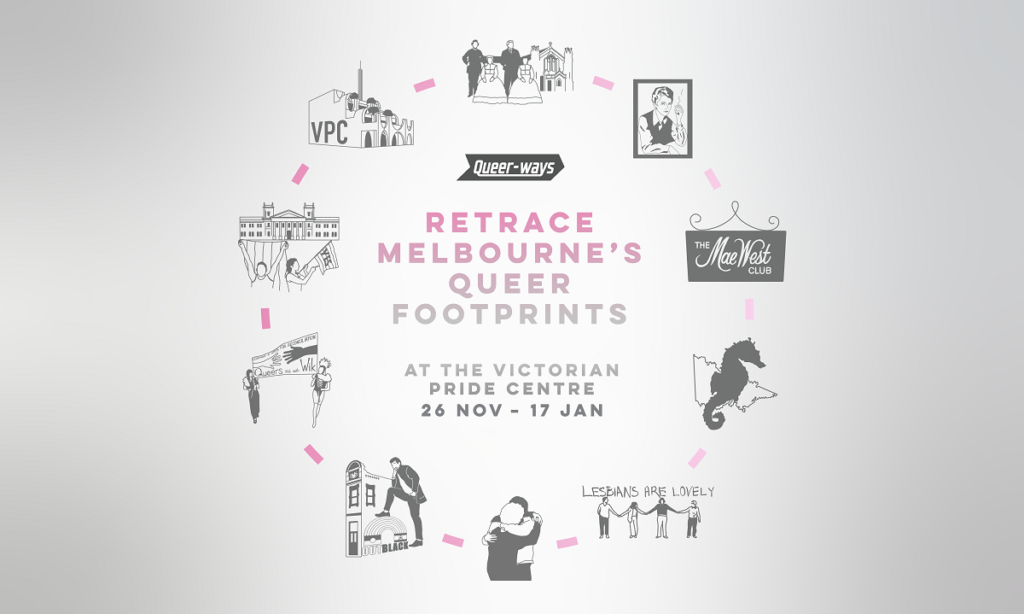 The free and interactive exhibition 'Queer-ways: Retracing Melbourne's Queer Footprint', is on display in the Pride Gallery.
The exhibition is curated by Melbourne/Naarm-based artists LUCIANO and Georgia Keats and features augmented reality illustrated maps of Melbourne's queer history. 'Queer-ways: Retracing Melbourne's Queer Footprint' is displayed on the ground floor of the building, opposite the Pride Gallery's inaugural exhibition 'identity, adornment, transformation'.
'Queer-ways: Retracing Melbourne's Queer Footprint' showcases a re-telling of Melbourne's queer history through the voices of local queer people in a series of five maps. After initial research supported by (resident organisation at the Pride Centre) the Australian Queer Archives (AQuA) and community consultation directly with Melbourne's LGBTIQ+ communities, LUCIANO and Georgia Keats have charted queer experiences, locations of significance, and memories onto illustrated augmented reality maps of the city. The exhibition also includes a display of archival material from the Australian Queer Archives.
'Queer-ways' intends to unite Melbourne's queer community in Australia's first purpose-built space for LGBTIQ+ communities, celebrating the historical and contemporary queer venues, events and spaces that have shaped and continue to tell the story of Melbourne.
More information about the exhibition here. Showing in the Pride Gallery until late January (exact date TBC).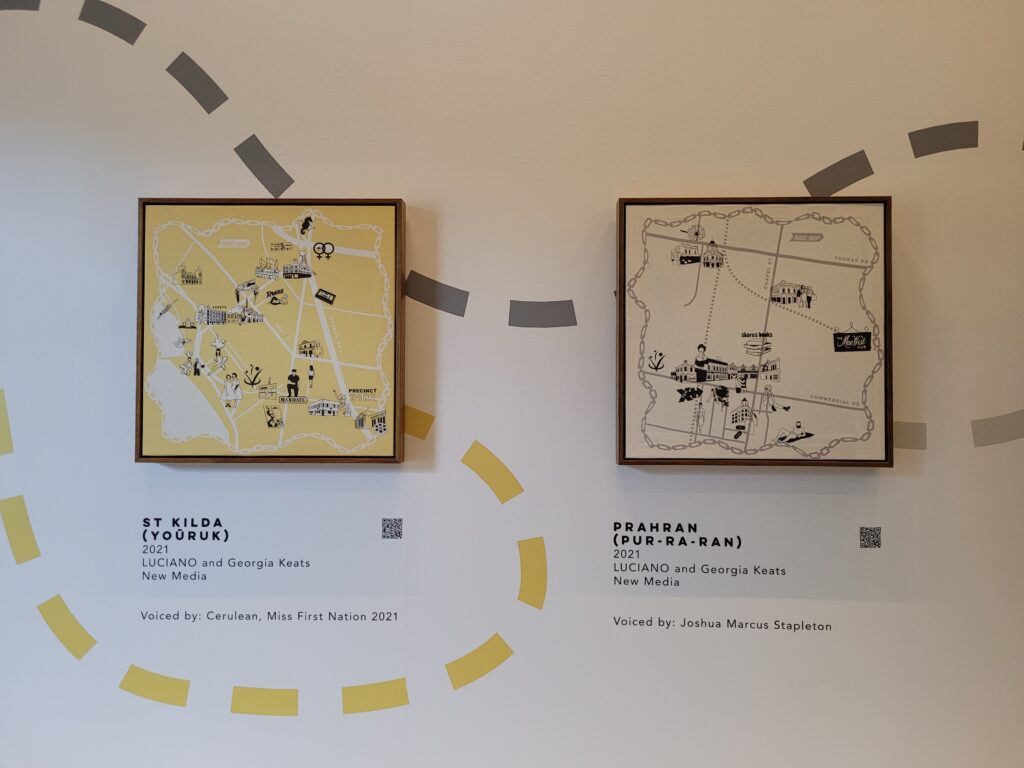 Inaugural exhibition:
identity, adornment, transformation (July 2021 – Jan 2022)
Curator Mish Eisen brings Indigenous LGBTIQ+ artists Jenna Lee, Clint Lingard, Paul McCann, Dylan Mooney and Peter Waples-Crowe together to create identity, adornment, transformation. The exhibition explores notions around discovery of identity, resonance of adornment and bearings of transformation from a LGBTIQ+ Indigenous contemporary lens.