Gang Meow Party
February 10 @ 6:00 pm

-

February 11 @ 6:00 pm

$19 – $49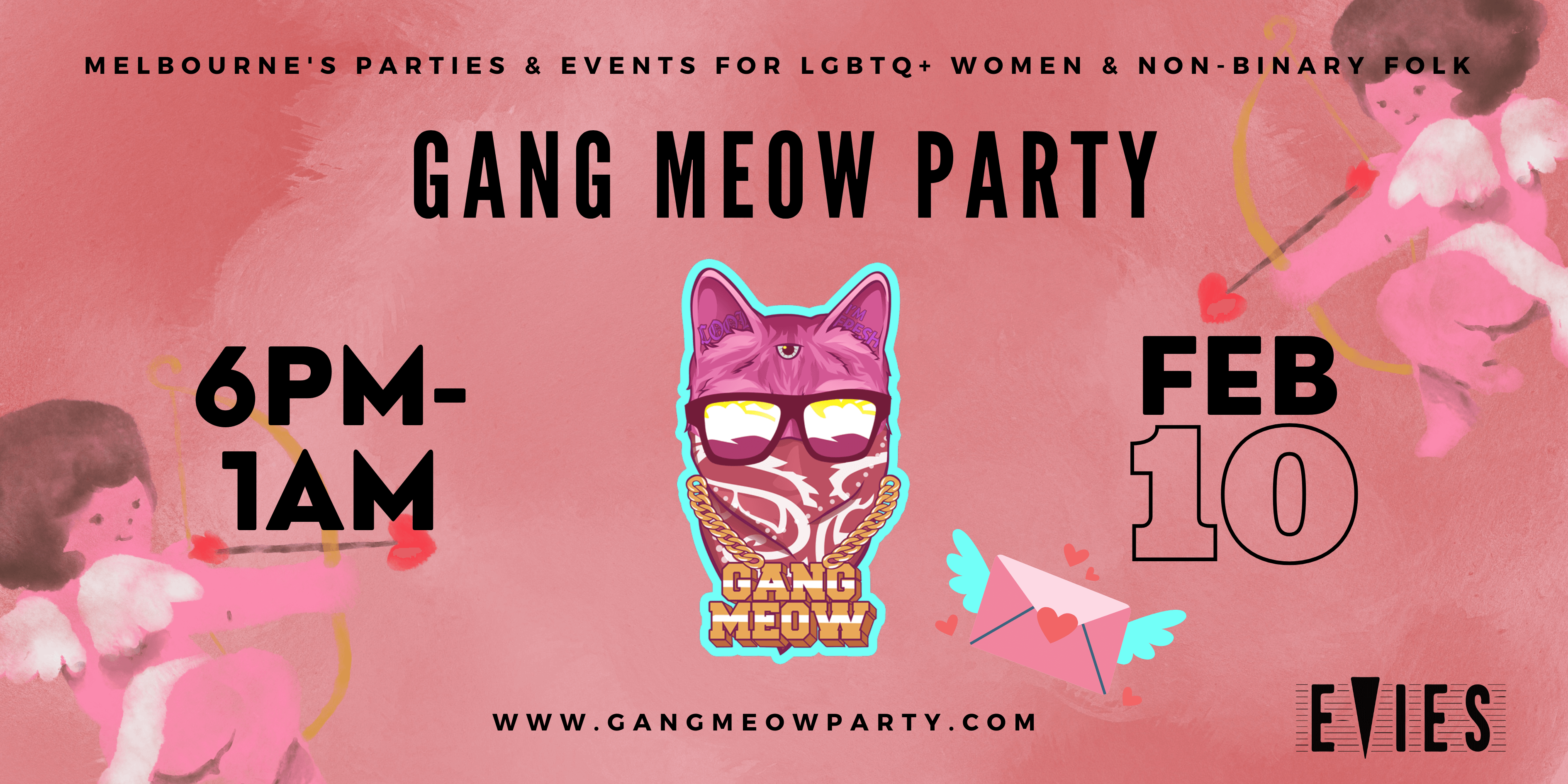 After ending this year with 3 SOLD OUT events, we are entering 2023 celebrating Valentine's like no other!
This one is for the lovers, love-seekers & the loved. ❤️🧡💛💚💙💜
We are going to be your ultimate wing person, as we bring you each & every way to authentically meet, genuinely connect & party the night away with like-minded LGBTQ+ Women & Non-Binary Folk at the Gang Meow Party on Friday, Feb 10 at Melbourne's most inclusive venues, Evie's Disco Diner in Fitzroy!
The Gang Meow Party will be absolutely packed with ice breakers, activities & games, arcade games, LIVE Pole Dancing & Burlesque performances, speed dating,/friending, sponsor giveaways & merch giveaways!
We are going to make all your queer valentine's dreams come true & assist in any way we can to make sure you meet lots of LGBTQ cutie(s)!
This event is created by queer people. For queer people.
THE LOWDOWN
– Experience sexuality & empowerment at its finest with LIVE Pole Dancing & Burlesque Performances
– Melbourne's finest queer DJs steppin' up to the decks & pumpin' out high vibin' beats including rNb, Rap, Hip Hop, LGBTQ+ Anthems, House, Pop & much more!
– Pre-Meet with Speed dating & Speed Friending™
– Activities & Games to help break the ice
– Live out your San
Junipero fantasy with retro arcade games
– $10 Sex on the beach & Fruit Tingle Cocktails
– FREE wet pussy shot for the first 30 peeps through the door
– Tasty Vegan friendly comfort food, taking inspiration from classic New York Diner fare & all your fast food faves will be available for purchase
Midnight Dance-off
– Under The Rainbow Limbo
– LesWho
– Cards against humanity
– Sponsor & Gang Meow Merch Giveaways
– Massive, multi-level space with colourful dance floor that is wheelchair accessible.
Evie's has 2 bars and a smoking area with a venue capacity of 200. Be sure to get your tickets now and save yourself from catching a case of FOMO.
TICKETS:
Early Bird – $19
First release – $29
Second Release – $39
Final Release – $49
Pre-meet tickets (Speed & Friend Dating) – Add on: $25 (Only 30 spots available)
(There will be NO DOOR SALES on tickets. This is an online pre-purchased tickets event.)
PRE-MEET FROM 6PM-9PM:
We gave organised a pre-meet that will run from 6pm-8pm. The pre-meet is for anyone coming alone or if you'd like to meet some new peeps before we amp the party up!
We have organised Speed dating & Speed Friending™ to take all the stress away.
This will not be your usual sitting than moving from table to table type of speed dating/friending event.
This will be standing-up speed dating, casual, easy-going & lots of fun.
We will provide absolutely anything & everything to assist you to meet & connect with like-minded LGBTQ+ people on a genuine, authentic level, where you can really be yourself & meet people as your beautiful self.
One of the ways that we do this is to provide pre-thoughtout questions with a hand out for each person, games & actiivites to help break the ice and get you chatting with all the lovely lgbtq+ women & non-binary folk you'll meet on the night.
ROUND 1 # SPEED FRIENDING – One hour each round then half an hour mingling.
ROUND 2# SPEED DATING – One hour each round then half an hour mingling.
(You must have a ticket for both the pre-meet & party to continue onto the party after the speed dating/friending event)
DRINK SPECIALS:
– First 30 people through the door get a FREE wet pussy shot!
– $10 Fruit Tingle & Sex on the beach cocktails all night long!
EVENT SPONSORS:
Alternative Women's Fitness – https://www.instagram.com/alternativewomensfitness
GANG MEOW PARTY PLAYLIST ON SPOTIFY:
We invite you to collaborate with us. We have added over 450 songs that will be played at random and we would love for you to add your favourites songs for all of us to dance & party along to.
Add or Listen to the Gang Meow Party Mix:
https://tinyurl.com/gangmeow
THE VENUE:
Evie's Disco Diner – https://www.evies.net.au
Located on Fitzroy Gertrude St in a converted iron works Evie's pays homage to the iconic era of 80's New York whilst catering to modern taste. Serving delicious American diner-style food with a huge range of vegan options. With a fun cocktail list, craft beers & local wines on tap make Evie's is the perfect space for our tribe to party the night away in!
Evie's is proudly an (almost) plastic-free venue. Lots of their booze comes in kegs not bottles, they will serve our cocktails with reusable glass straws & their takeaway packaging is cardboard & biodegradable. There is an emphasis on low waste, ethics & sustainability, and everything is locally sourced, even down to the syrup in the soda guns!
DRESSCODE
The dress code is YOU – So wear whatever makes you feel comfortable!
DISCLAIMER:
This event is for LGBTQ+ Women and Non-Binary Folk. In saying this everyone is welcome with the reminder that this is a safe space and we have the right to remove anyone being a dick.
CONNECT:
Website:
Https://www.gangmeowparty.com
Instagram:
Https://www.instagram.com/gangmeowparty/
Facebook:
Https://www.facebook.com/gangmeow/
E-Mail:
Gangmeowmelb@gmail.com
Related Events