Gang Meow Party
March 31 @ 8:00 pm

-

April 1 @ 8:00 pm

$19 – $39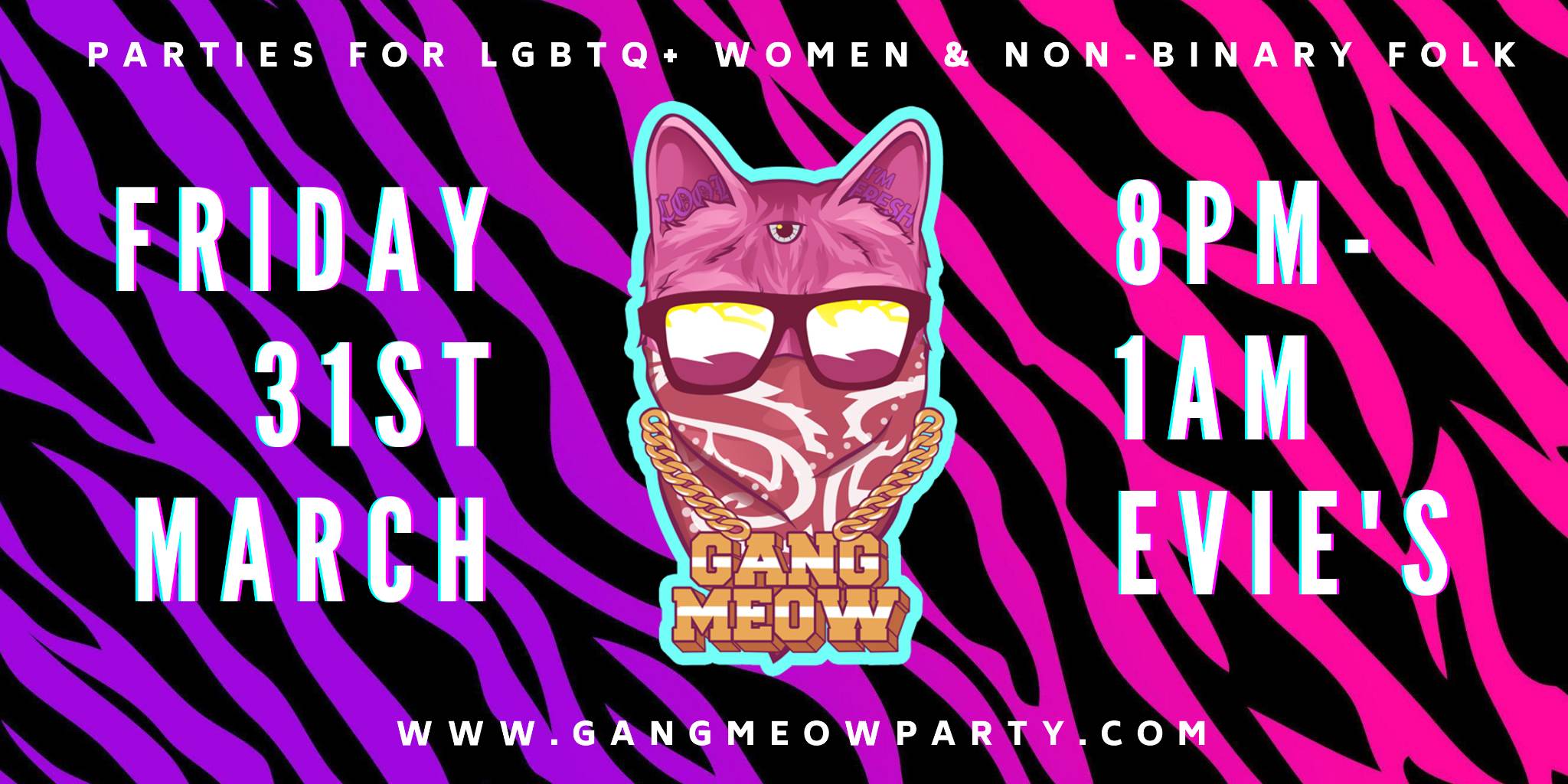 Join us as we throw the party of all Gang Meow Parties this March for LGBTQ+ Women & Non-Binary Folk @ Evie's Disco Diner in Fitzroy! 🌈
Grab your pink hard hats, pick out your best sleeveless tank & fasten your favourite sparkly carabiner, because we are bringing you the party you've been dreaming of since you were a wee baby gay! What you always secretly wished for & never knew how much you truly needed until now!
Experience pure sexuality & empowerment at it's finest, as you immerse yourself in high vibin' LIVE Performances, all while soaking your senses in the beatz & vibes of Melbourne's best LGBTQ+ DJs , who will be bringin' you the good GOODS, pumpin' out banger after banger & all of our fav LGBTQ+ anthems!
You're going to be happier than charlie with his golden ticket about to enter the chocolate factory, when you see what we have in store for you.
THE LOWDOWN
LIVE Performances by:
– Not Priscilla & Nat – Shift Ent.
– Dj Clickbait will be on the decks from 9PM – 11PM
– More DJs TBA shortly!
– Vegan friendly comfort food taking inspiration from classic New York Diner fare and all your fast food faves
– Gaymer grrlz, live out your San Junipero fantasies with Retro Arcade games throughout the venue.
– Ice breaker games & activities – Under The Rainbow Limbo, LesWho, Cards Against Humanity & much more.
– Traffic Light Game with FREE glow sticks, bands, wands etc, upon entry into the party.
Green – Single, ready to mingle.
Orange – Looking for fwiends!
Red – Don't be mistaken, I am taken.
Blue – Poly hottie!
– Midnight Dance Off with awesome prizes to be won!
– FREE wet pussy shot for the first 30 people through the door
– Delicious $10 Fruit Tingle & Sex on the beach cocktails all night long!
– Gang Meow Merch & Sponsor Giveaways
– Evie's has 2 huge bars and a smoking area with seating out the front of the venue & out the back. The lower level is wheelchair accessible, which includes an accessible toilet & bar.
PRE-MEET
The first hour of the Gang Meow Party is the pre-meet, this is for anyone coming alone, who would like to meet new peeps before we amp the party up & dance the night away together!
GANG MEOW MIX ON SPOTIFY
We invite you to collaborate with us. We have added over 450 songs that will be played at random and we would love for you to add your favourites songs for all of us to dance & party along too.
Add or Listen to the Gang Meow Party Mix:
https://tinyurl.com/gangmeow
DRESSCODE
The dress code is YOU – So wear whatever makes you feel comfortable!
DISCLAIMER
This event for LGBTQ+ Women and Non-Binary Folk. In saying this everyone is welcome with the reminder that this is a safe space and we have the right to remove anyone being a dick.
Related Events