Loud, Proud and Unhoused
March 17 @ 2:00 pm

-

4:00 pm

Free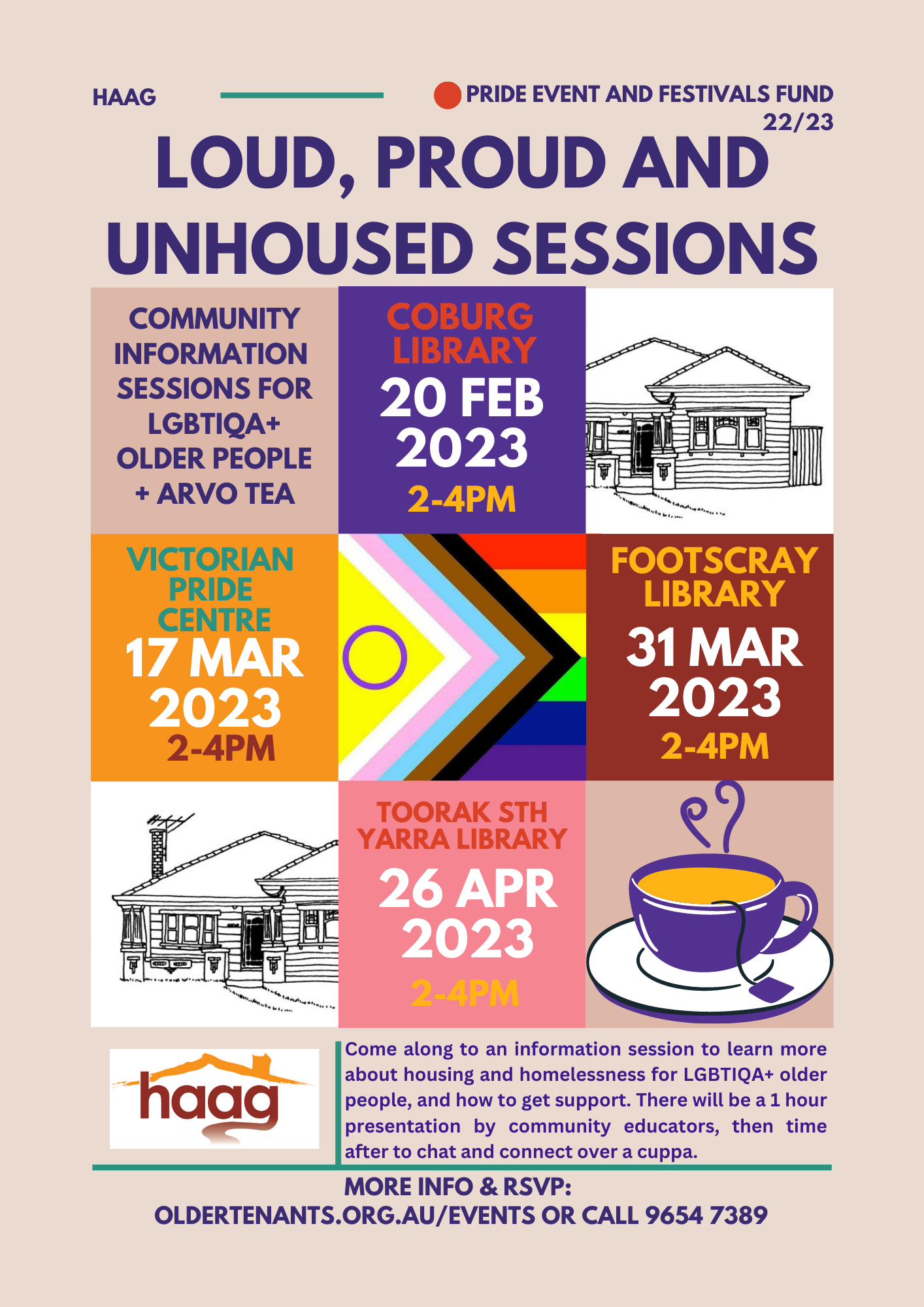 Housing for the Aged Action Group's (HAAG) LGBTIQA+ community educators are running several events for older LGBTIQA+ community members about the experiences of housing and homelessness for older LGBTIQA+ people, including what places them at risk and where to go for help.
We have an upcoming session at the Victorian Pride Centre. The session will begin with a brief presentation by the community educators, and then there will be time to chat and connect over a cuppa. These events are as much about connecting socially, as they are about providing information on housing and homelessness. So, even if housing stress is not an issue for you, please join us and connect with others over afternoon tea.
There will also be staff members at the event to assist anyone requiring a referral to HAAG or who need follow-up information and support.
The event will be photographed, so please inform staff if you would not like to have your picture taken.
Event details below:
17 March – National Day of Action Against Bullying and Violence and National Close the Gap Day
2-4pm
Victorian Pride Centre
79/81 Fitzroy St, St Kilda VIC 3182
31 March – Trans Day of Visibility
2-4pm
Footscray Library
56 Paisley St, Footscray VIC 3011
26 April – Lesbian Day of Visibility
2-4pm
Toorak Sth Yarra Library
340 Toorak Rd, South Yarra VIC 3141
RSVPs are essential. Go to https://www.oldertenants.org.au/events or phone 9654 7389
If you have any questions about the sessions, get in touch with Fiona Waters or Rebecca Cook on 9654 7389, or via email: Fiona.Waters@oldertenants.org.au, Rebecca.Cook@oldertenants.org.au