Nomads Outdoors Group – Hastings Coastal Boardwalks Explorer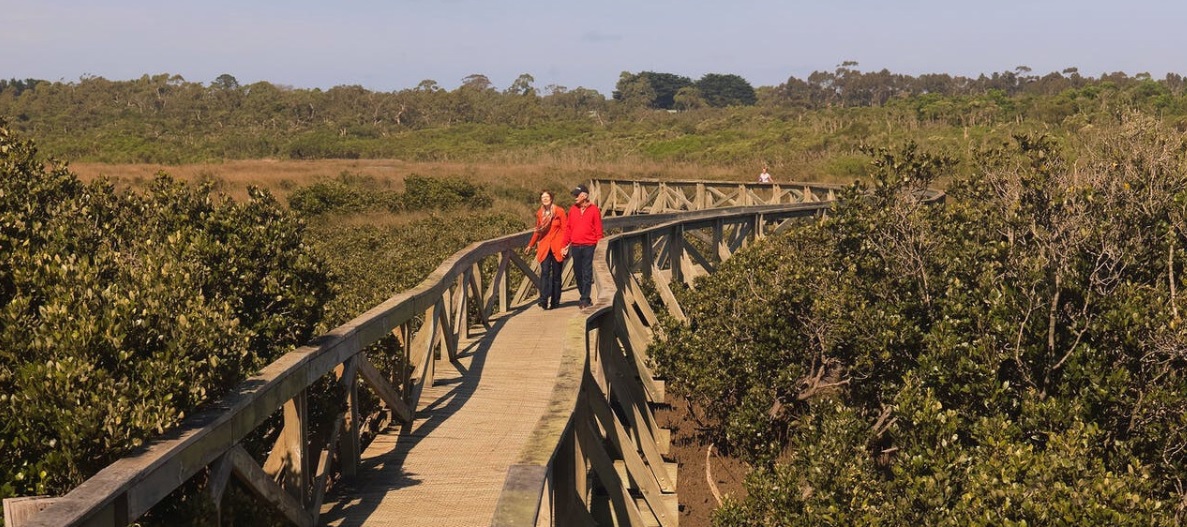 Enjoy a delightful ramble on boardwalks and paths along the Hastings foreshore, through unrivalled coastal wetlands, including mangroves.
NOTE: Some details may change after a recce is done in September.
GRADE | LENGTH | TYPE: Moderate 12 km, out-and-back walk, almost entirely on off-road paths and board walks, with no hills.
ACTIVITY DESCRIPTION: Enjoy a relaxing day out on the Westernport coast, in this public transport accessible event, walking along coastal tracks and board walks around Hastings. Travel via car or Metro train to Frankston, from where the group will catch the #782 bus to the northern outskirts of Hastings to begin the walk.
From the bus stop on the corner of Thornhill St and Marine Parade, we walk via paths and board walks to the Westernport Marina. From there we continue, through open parklands, to Warringine Park to follow the Bittern Coastal Wetlands Boardwalk through woodlands and coastal marshes, all the way to Jacks Beach. We'll have lunch at Jacks Beach, nestled amongst the trees, and right on the coast.
After lunch we retrace our steps to the Westernport Marina via the boardwalk. In Hastings there should be plenty of time for refreshments at one of the local establishments, prior to heading to Hastings Station to catch the 4:10pm V/Line train back to Frankston.
From Frankston, there are Metro trains every 10 minutes at that time of day to return towards Flinders Street Station.