Nomads Outdoors Group – Naturist bushwalk for great views of Mt Hickey. Opt'l BBQ & Overnight on a farm near Lancefield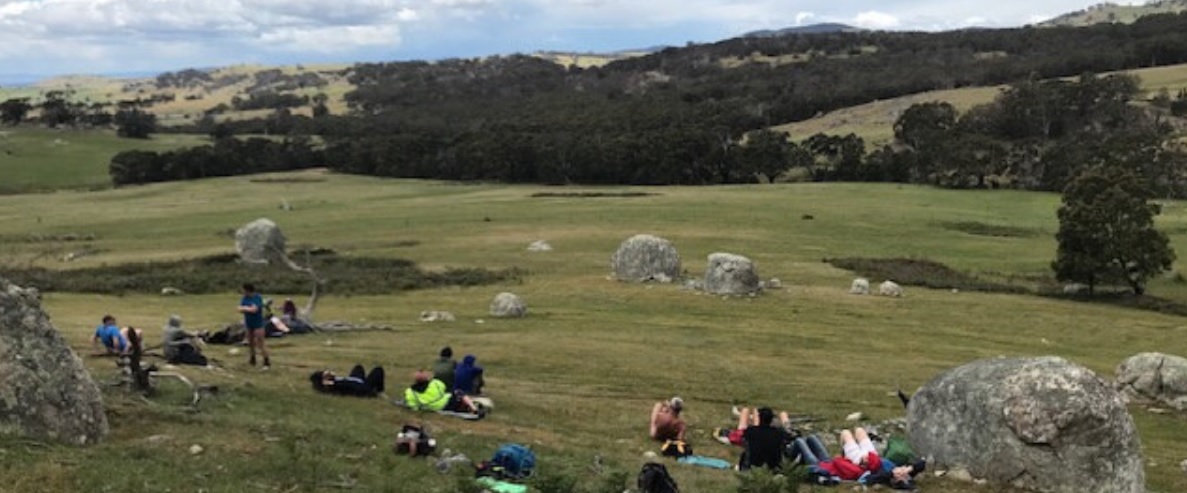 This is a weekend and bushwalk for naturists. The walk is of medium difficulty through the back hills of our host's very large property – we have never walked to this area before. From the quite high hills you can see into the valley where the Hume Freeway runs and even further across to Mt Hickey sitting on the horizon. If we are hot when we finish we can cool off in the creek swimming pool, or warm up in the spa or in front of the open fire, all in our birthday suits.
In the evening we will be able to relax with a BBQ dinner, spa, massage, and socialising around an open fire.
Please Note: Running naturist walks in Spring is quite risky weatherwise. Should Sat & Sun 14 & 15 Oct be totally unsuitable weather, our backup dates for this event are Sat & Sun 28 & 29 Oct.
GRADE | LENGTH | TYPE: Medium 6 to 7 km naturist circuit walk. There will be walking through grassy paddocks along sheep and kangaroo pads. The hills are moderate and not that steep.
ACTIVITY DESCRIPTION:
SATURDAY WALK: This walk is for naturists. We will meet and unload the cars at the overnight farmhouse anytime between 10am and 10:30am. Hot drinks and nibbles will be available until 11am. We will then have a briefing for the day and do a short car pool to the start of the walk. Lunch will be eaten at a good spot along the way when we get hungry. After lunch we will continue on for a bit to get more views and then circle around to get back to the cars to return to the farmhouse. If the day is hot we can then go for a nude swim in the lovely Mollison Creek swimming hole, or if cool have a soak in the hot tub. There will be drinks and snacks available at the farmhouse after the walk. It is planned to start the BBQ around 6pm.
OVERNIGHT: Optional evening BBQ, overnight, breakfast and lunch at the farmhouse. After the Saturday walk we have been invited back for further naturist socialising at the very comfortable farmhouse with its great open fire. There will also be a spa and massage tables to use.
SLEEPING: For those staying overnight, there is floor space for 14 people in the house. There is carpeted floor space in the library, lounge room and dining room – please BYO sleeping bag, sleeping mat/lilo, pillow etc. There is a spare double air mattress, a single air mattress, one spare doona, some blankets, a few sleeping bags and a couple of spare foam sleeping mats at the property. Or if you like, you can put up your tent on the back lawn. There is also room for campervans etc.
BBQ: BYO meat and drinks. Basic salads and bread will be supplied. Dinner desserts or morning tea snacks would be appreciated.
TOWELS: Please BYO towels about 3 or 4 of them.
1. for sitting on. 2. for the massage table. 3. for your shower or spa. 4. after swimming.
BREAKFAST: Breakfast is supplied, including eggs and bacon, cereal, toast and spreads, tea and coffee, and for Sunday lunch there are always plenty of leftovers from the night before.
SUNDAY MORNING SHORT WALK: For those who would like a further walk, we will arrange a short walk either to the Gorge, along picturesque Mollison Creek or elsewhere in the area. This will be followed by lunch to eat up the spare food.