Nomads Outdoors Group – Steiglitz Historical Park Walk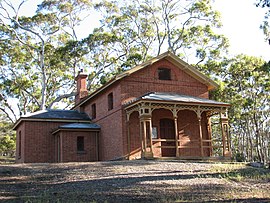 An easy-moderate circuit walk from the historic gold mining town of Steiglitz.
GRADE | LENGTH | TYPE: Easy-Moderate 9 km walk with a total rise of 230m.
ACTIVITY DESCRIPTION: Steiglitz is a small settlement in the Brisbane Ranges in Victoria, located 83 kilometres west of Melbourne.
The Von Stieglitz family bought and settled the land on which Steiglitz now sits in 1835. They returned to Ireland in 1853, but retained ownership of the land, upon which gold was found the following year. It became the first auriferous quartz-mining site in Victoria. A settlement of gold-prospectors quickly developed, and took its (misspelled) name from the land's owners. The population reached 2000 by 1863, including roughly 220 Chinese immigrants. The easily-won gold had been worked out by the late 1870s, and many people moved away. The last gold mine closed in 1941 and, as of 2015, the population of the town site was just eight. The Steiglitz historic park was opened in 1976 with the intention of preserving Steiglitz as an example of an abandoned gold-mining town, and several historic buildings were restored.