Nomads Outdoors Group – Tall Ship Sailing in Far North Queensland – One Vacancy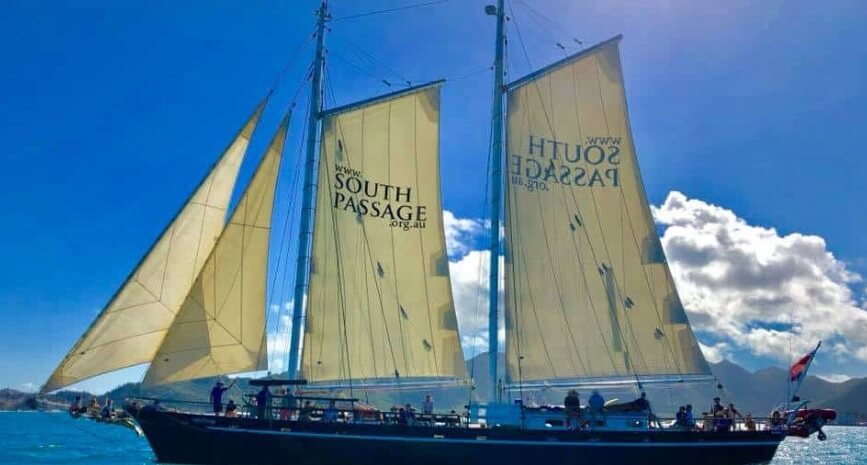 THERE IS ONE VACANCY (DUE TO A CANCELLATION) FOR THE FIRST PERSON TO PAY THE DEPOSIT.
Join the tall ship "South Passage", Queensland's sail training ship, for a sailing trip to and from Townsville with stops for bush walks on the iconic islands of Magnetic, Hinchinbrook and Dunk in June 2023. Participate in sailing the ship, snorkelling on the Great Barrier Reef, walking on a deserted island, and feeling the wind in your hair. Everyone sleeps in a communal cabin, and there are shared toilet facilities, which is a small discomfort to pay for the experience of sailing in the same manner that Captain Cook did.
This trip will be similar to 2022 with some differences.
GRADE | LENGTH | TYPE: A basic level of fitness and dexterity is required to move around the ship while it is moving. You need a spirit of adventure, and to embrace working as a team to assist sailing the ship. However no prior sailing experience is required and you will be trained on the job. At times you might have to be awake at night for up to 2 hours to assist in running the ship.
ACTIVITY DESCRIPTION:
The ship is named South Passage. She is built on the same lines as a New York Pilot Schooner, and has a total length of 30 metres.
Each day we will find a picturesque anchorage, set foot on an enchanted island off the Barrier Reef for a bushwalk, or go snorkelling. The locations are likely to include Magnetic Island, Orpheus Island, Hinchinbrook Island and Dunk Island.
The emphasis is on having a good time and getting a range of experiences – not just hard-core sailing. You will never be bored!
The voyage is for 7 days, and will cost $1,750 including accommodation of Friday 2nd June. This cost does not include transport to/from Townsville but includes everything once you are on board including all on-board meals. The evening meal on Friday 2nd is a group dinner on shore at your expense.
South Passage does not have any powered winches, so we rely on your manpower to sweat the lines and do all tasks required to run the ship, in the same manner as the ancient mariners.