Open Hearts Club
July 11 @ 7:00 pm

-

9:00 pm

$15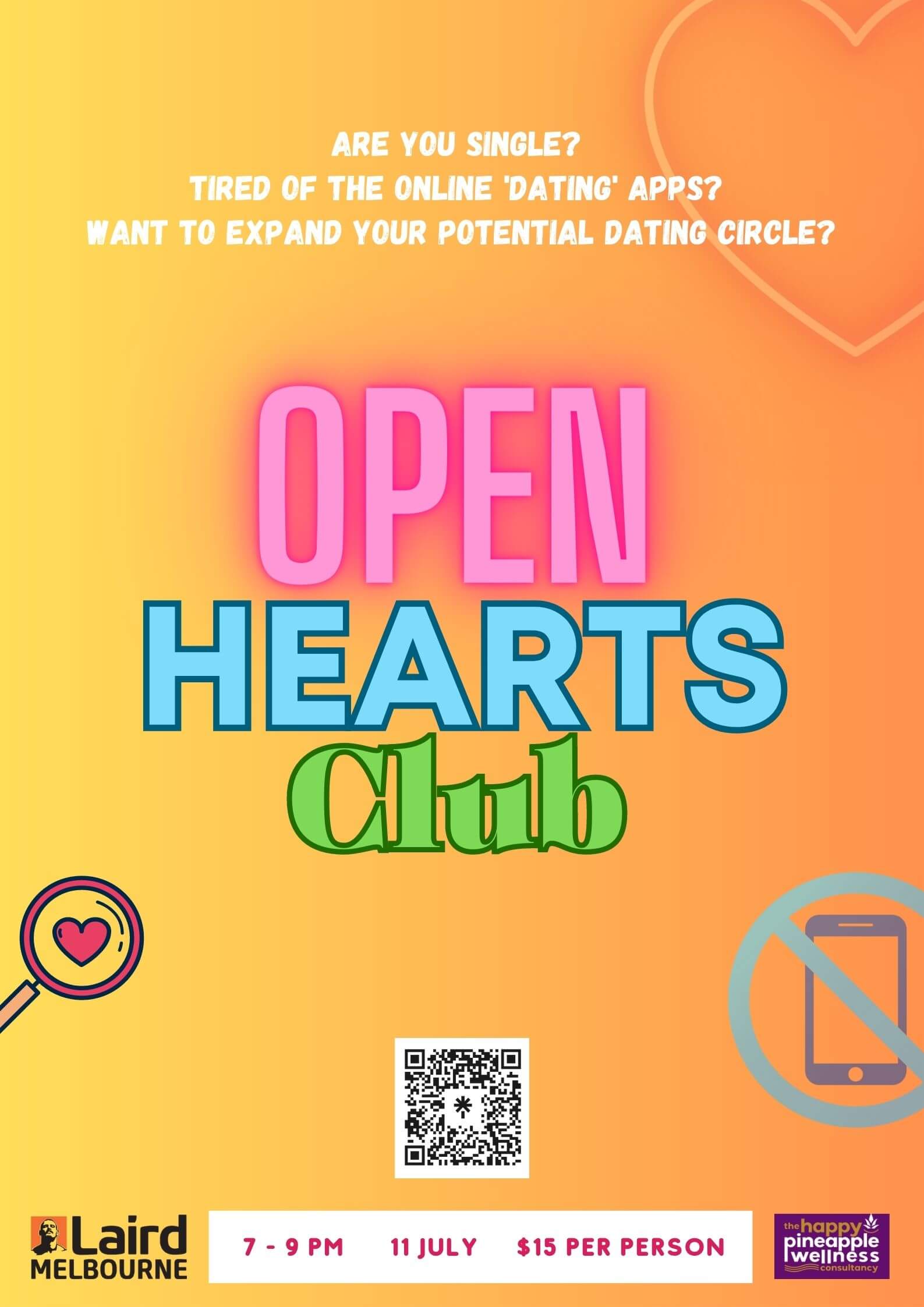 Are you single?
Tired of the online dating apps?
Want to expand your potential dating circle?
Well, we have the PERFECT event for you!
After the last few years of covid-19 isolation, I think it's only natural that we have relied heavily on the gay dating apps to introduce us to a bevy of great guys that we can potentially form a connection with. But what happens when you finally 'meet' in person only to find out that who you met is not who you fancied online?
Or could it be that finding other single guys is hard enough and when you finally meet them, you may be so out of practice with your social skills that it just doesn't end well.
The Open Hearts Club will bring together a great bunch of single guys (both CIS and trans) who are in the same boat as you and then run some fun, engaging, and informal activities which will help us get to know each other better.
The event will be hosted by Speed Mating's Morgan Fitzgerald, and he will do everything within his power to help make you feel at home. As a proud member of the LGBTIQA+ community and as a mental health first aid instructor, he truly cares about making a difference.
If you are shy or feel like this event is just 'Speed Dating' disguised… this is not. It's a social mixer with a twist.
The rules of engagement for coming along to this event are:
1. Be single: Please only come along if you are not already in a relationship OR currently in the dating phase of getting into one. Singles only.
2. Be open hearted: Let's try to not overthink what will or won't happen at this event and just have fun. Hence the name of this event.
3. Reflect on if you are REALLY ready: Please ensure that you are at peace with where you are in life and that you're fully open to see where this event could take you. This is where the magic will happen.
4. Be respectful towards other guests: You never know who will come along to this event and what their confidence levels may be. Be kind and welcome everyone who is brave enough to attend.
5. Know that numbers are limited: We aim to help you to connect with other great single guys. This means we keep the guest list intimate and not overcrowded.
6. This is not a hook up event: This event is all about finding friendships, connections, and potential dates with others in our community.
So where is it held?
The Laird is one of Australia's longest running gay-owned and operated venues. Formerly known as Melbourne's only bear and leather bar; it progressed over the years to become a haven, meeting place, and party space for same-sex attracted CIS and Trans males.
Arrival Time:
Please arrive by no later than 6:45 pm for a 7:00pm start.
Important:
If you would like to come along and cannot afford to pay the event admission, a very small handful of tickets will still be available for those who may be experiencing financial hardship. Please reach out to me using my Eventbrite profile if this is you and I will do my best to ensure you are able to join us.
Cancellations / Refund Requests:
We have a no ticket cancellations or refunds policy. Refunds will only be considered on a case by case basis and require at least 24 hours notice to be considered.
Related Events