THE SIX GUYS AN IMMIGRANT TRANS PERSON OF COLOUR WILL DATE IN MELBOURNE
February 12 @ 4:00 pm

-

5:10 pm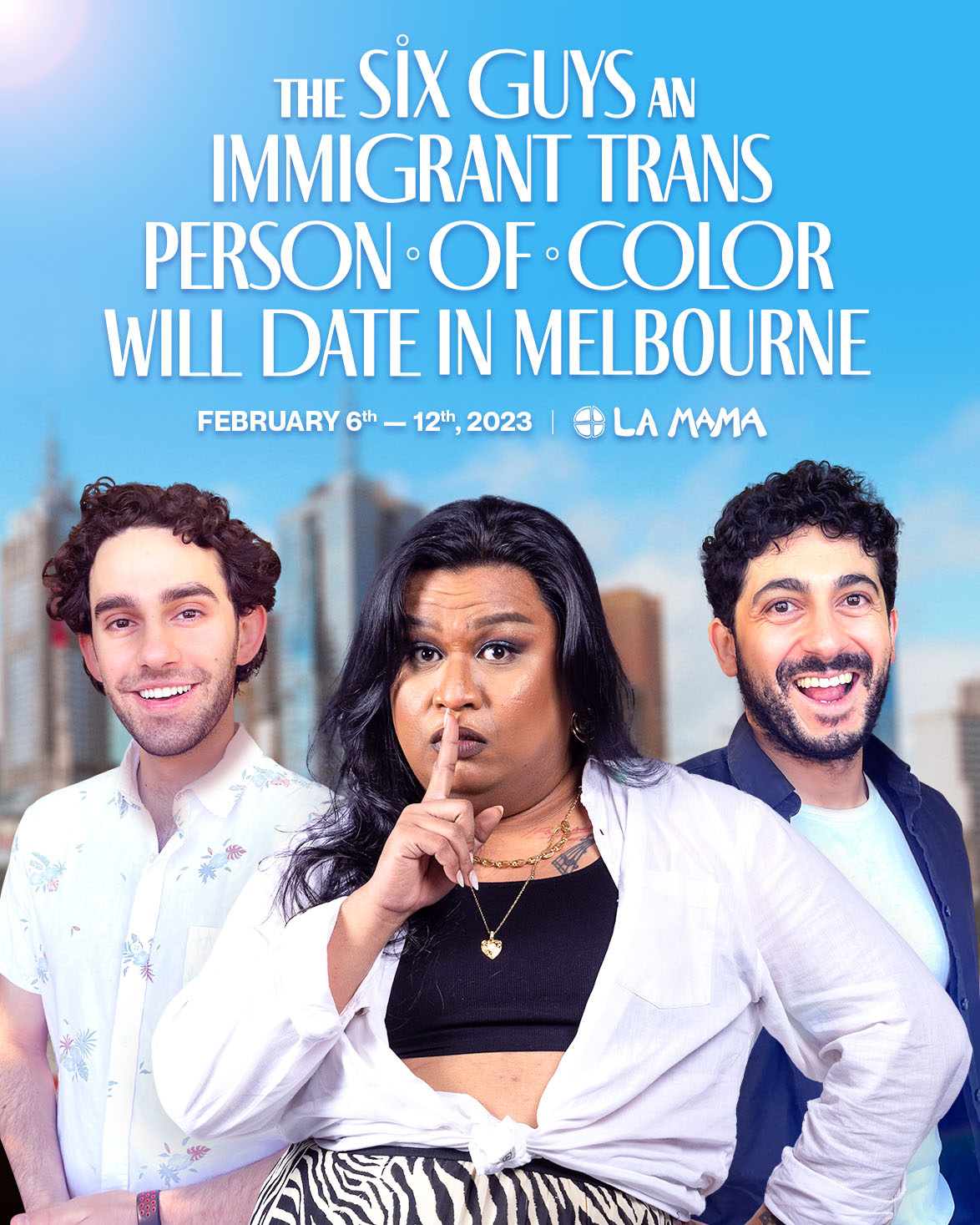 A series of romantic (mis)adventures in Melbourne's queer dating scene
"This is a story of Men. and Sex. and Dates. and Love. Fucking Love." – D
After being uprooted from their place of comfort and being thrown in front of the world's biggest crisis, D now has to face an even bigger challenge: finding themselves in the 7-time voted "most liveable city in the world". Will a series of unfortunate relationships really lead them to the sense of self that they've lost?
"But the world has shown me that I don't deserve that. That I will never have that. Because they say so. Because I'm this." – D
"Six Guys" dives a little deeper into the intersectionality of multiple marginalisations in a world run by men. A hybrid of stand-up and situational comedy, this play finds humour in the harsh realities these people face. Funny, heartfelt, and inspiring, it will leave the audience having a better understanding of people who are not them.
D and their six guys will take you on a hilarious romp that shines a light on a uniquely queer and diverse experience of love, loss, identity, and reinvention.
Written by Dax Carnay
Directed by Beng Oh
Produced by Justine Javier Long and Dax Carnay
Performed by Dax Carnay, Omar Dabash, and Sebastiano Pitruzello
Dramaturgy by Jane Miller
Lighting Design by Clare Springett
Sound Design by Ben Keene
Set and Costume Design by Christina Logan-Bell
Video and Graphic Design by Jordan Hanrahan
Stage Managed by Teri Steer
PR and Marketing by Shei Faulmino
Related Events