The Victorian Pride Centre (VPC) is excited to announce its next major exhibition – 'Beguiling' – by acclaimed artist Professor Dr. Lisa Anderson.
The exhibition is an evocative, multimedia exploration of changing landscapes and environmental collapse, and will show in the Pride Gallery as part of VPC's visual arts program from November 8 until January 5, 2024
Artist Professor Dr. Lisa Anderson creates images that parallel elements of beauty and destruction through the Anthropocene. The photographs hint at the measures we use in the Doomsday Clock made by scientists to demonstrate human impacts on Earth, which is now set at 90 seconds to midnight.
Captured over many years, these have been altered through scarring each image with wax and burns. New and local images use customised infrared filters, and different printing surfaces, along with image twinning to suggest themes of eternity and disaster warning. 
The videos are influenced by the images and rhythms of folklore and myth used across cultures to explain the world of nature. Earth, fire and air are anthropomorphised as dangerous and beautiful, enticing, alluring and a signal of destruction. The works bring together the remote locations of the Arctic and Antarctic regions alongside the infrared based images of Port Phillip.
Prof. Dr. Lisa Anderson is the current Rupert Bunny Fellow. The research, image creation and exhibition have been supported through the Rupert Bunny Foundation Visual Arts Fellowship, administered by City of Port Phillip.
Quote attributed to Dr. Lisa Anderson: 
"Creating this work has taken many years of research and expedition work with international artist residencies often in remote polar regions. Glacier climbing, ice diving and hot air balloons across the Arctic iceshelf are all part of the making process. The photographs and videos are laden with clues from folkloric traditions and histories to hint at the stories that question our approaches to the climate crisis. The plea I make is to look more closely at our interactions with the environment through the performative sense of time running out, framing the work with environmental degradation. Beguiling is itself a sublime beauty with trickster intentions." 
Quote attributed to Justine Dalla Riva, CEO Victorian Pride Centre:
"We are thrilled to showcase Lisa Anderson's new exhibition at the Pride Centre. Her evocative work in 'Beguiling' highlights the precarity of our natural environment at this moment in time, and uses our exhibition spaces in surprising and impactful ways. The Pride Gallery is a special space because it showcases the work of LGBTIQ+ artists and works that act as catalysts for important conversations."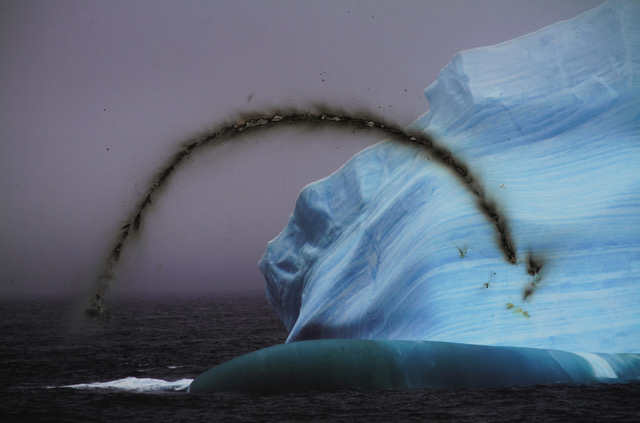 Top/calendar view – Still from the video work Ignis Fatuss: Foolish Fire.
Above – We Burn Rainbows. Digital Print on Paper with burn scars. 110 x 75 cm. 2007-2023.